We are happy that CarePartners has identified a path forward to continue this valuable service.
We are excited about how the Center is perfectly aligned with Carepartners' mission and services, and encourage the community to support this effort.



CarePartners to Assume Operation of Dementia Day Center
Houston's Only Program for Moderate-to-Late Dementia Gets New Home – Plus, All Program Donations Doubled thru 12/15
On September 8th, CarePartners announced that we will be assuming operation of the Dementia Day Center, currently run by BakerRipley,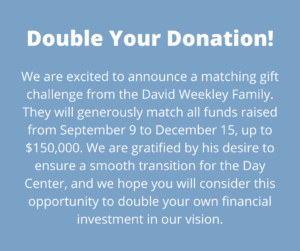 on January 1, 2022. After an extensive and diligent process, the CarePartners board and staff has developed a plan for responsibly integrating the Dementia Day Center into our own operations while maintaining an impeccable, sustainable standard of care for our care partners and their families.
Through combining our current programs (Gathering Place, Second Family Care Teams, Caregiver Education Events, and Common Ground Support Groups) with the services of the Dementia Day Center, CarePartners will be able to provide a continuity of care and resources for caregivers from the beginning of the memory loss journey through late stages of a dementia diagnosis.
The Dementia Day Center is one of only two facilities in the Greater Houston area, and the only one that serves individuals with moderate-to-late dementia, ensuring that they continue to have purpose and passion in their lives while providing their families with the support they need for one of the hardest jobs no one receives training for: providing 24/7 care for a spouse, parent, or other loved one who has developed dementia.
Expanding Our Services to Support More Families in the Greater Houston Area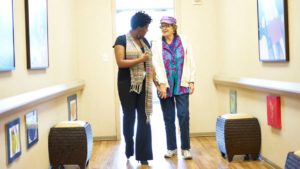 Each year, the Center provides over 270,000 hours of care for 150 clients and 350 family caregivers. In the Houston region alone, an estimated 62,000 people are living with Alzheimer's disease and other types of dementia. Each year, CarePartners serves over 3,200 older adults and family caregivers. Approximately 1,900 volunteers participate on 87 care teams and donate a total of 115,000 hours of free care and education valued at $3.1 million. The combined programs will create some breathing room for our caregivers while at the same time encouraging a sense of community, safety, and purpose for the participants. Adding this program to CarePartners' array of services strengthens our agency and is a perfect fit for our mission of supporting the caregivers for loved ones with Alzheimer's or other forms of dementia.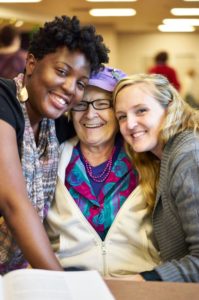 Collaboration between CarePartners staff and board and the BakerRipley team is already paving the way for a smooth transition. We intend to add the dementia day center employees to our existing staff. At the end of 2021, CarePartners' offices will relocate to the Dementia Day Center location at 3838 Aberdeen Way, thus ensuring an undetectable transition for the patients whose conditions can be worsened by disruptive change. The two agencies are working together to ensure a seamless transfer and continuity of care for the program's clients, their families, the employees, and volunteers.
Your Donation Makes a Difference
Funding is a necessity to make this transition a success, and thanks to the positive reception we've had from Houston's generous donor community and with the early support of lead funders like the William Stamps Farish Fund who have already made a commitment, CarePartners will be able to maintain financial stability through this process. However, we hope the vote of confidence from these early, significant gifts will be a catalyst for additional support as we work toward closing the gap in our fundraising.
We are excited to announce a matching gift challenge from the David Weekley Family. They will generously match all funds raised from September 9 to December 15, up to $150,000. We are gratified by his desire to ensure a smooth transition for the Day Center, and we hope you will consider this opportunity to double your own financial investment in our vision.
We will continue to update our caregivers, program participants, and volunteers as CarePartners moves through this transition. If you have any questions, please contact Tom Breaux at 713.682.5995.
Click here to view our Dementia Day Center Transition FAQs.
Media Inquiries:
Contact Joy Partain, Joy Partain Communications 713-498-4399, joypartain@gmail.com Click here to view a PDF version of this announcement.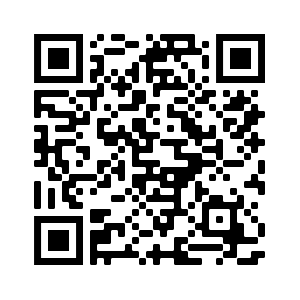 Donate:
We are excited about this opportunity and confident in our ability to operate this program with care and excellence. However, we recognize that the addition of the Day Center will require a new level of support from our gracious partners and donors.
Please consider donating today: DOUBLE YOUR DONATION THRU 12/15
TO DONATE BY CHECK Please make your check payable to "CarePartners" and mail to:
CarePartners 701 N. Post Oak Rd., Ste. 330, Houston, TX 77024 To contact us, call 713.682.5995 or email here.

Click here to visit the site!